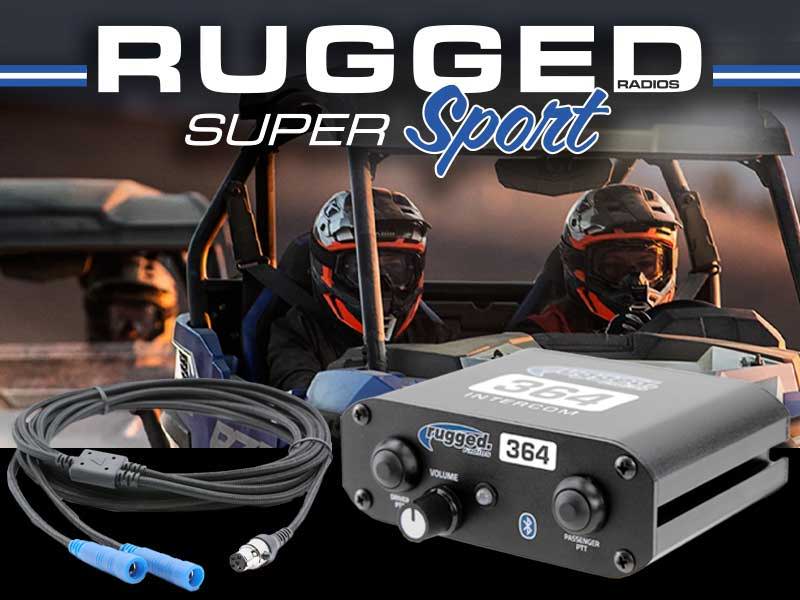 Stream music, talk to your passenger, and enjoy the ride!
Easy to install, easy to use intercom.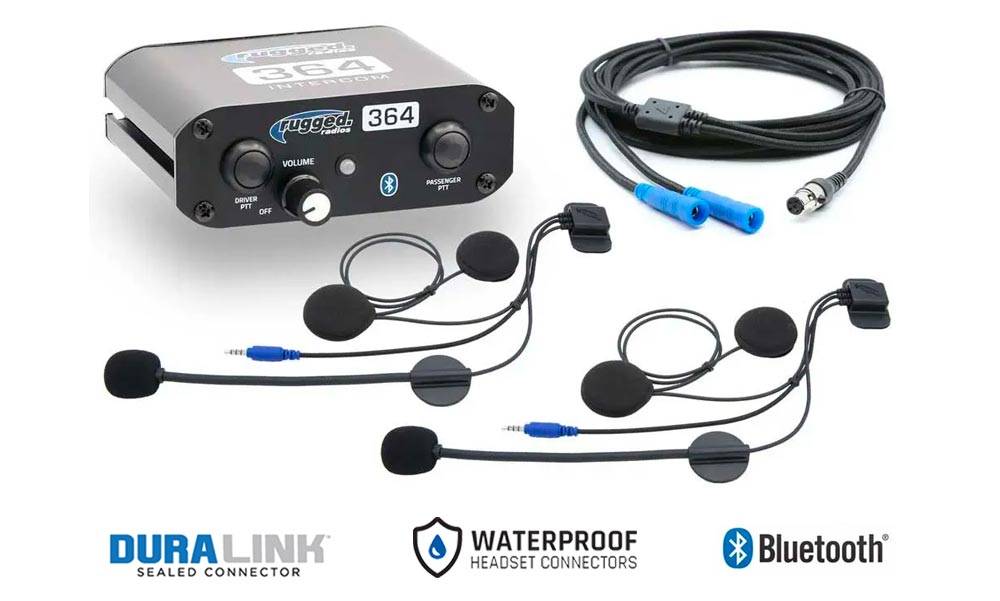 The Rugged 364 Super Sport Intercom kit allows seamless conversation between driver and passenger. Simply turn on, adjust the volume and start talking. Add your favorite music by easily pairing your phone to the latest in Bluetooth 5.0, high-fidelity technology. Enjoy your music as much as you're enjoying the ride.
The 364 Super Sport is Rugged Ready! Take the conversation further by easily adding a 2-way radio for plug-and-play vehicle to vehicle communication.
• Instant, Hands-Free, Clear Conversation




• True High-Fidelity Music




• Rugged Snap-Lock 3.5mm Dura-Link Connectors




• Premium Fiber-Weave, Lightweight Cabling




• Easy to Reach PTT's


• Quick-Install Helmet Kits
• Bluetooth 5.0 and supports aptX

• Easy to install, easy to use
• 2-way radio ready

The Rugged 364 Super Sport Intercom upgrades your ride and your conversation out on the trail. Have fun, be safe, and communicate!
TALK WITH UP TO FOUR PASSENGERS
With the new Super Sport cabling, you can easily expand a single headset/helmet kit port into two, making the 364 Super Sport kit a four-place kit.
HIGH FIDELITY MUSIC AND NAVIGATION

Experience incredible audio with Bluetooth 5.0 and support for aptX. Hear your GPS navigation and never miss a turn on the trail.

MAKE AND RECEIVE PHONE CALLS
Connect your smart phone and make and receive phone calls with the best in clear communication.
EASY TO INSTALL
The new simplified Super Sport cabling provides two headset or helmet kit connections from one port on the back of the intercom. Installation is easy!

EASY TO USE
Built-in PTT (push-to-talk) buttons on the 364 intercom means no additional PTT cables are required. After you connect an optional two-way radio, simply press the PTT button on the intercom to talk vehicle-to-vehicle. All in-car passenger conversations are hands-free.
Affordable. Simple. Easy. Effective.


The new Super Sport cabling features a lightweight design for simplified installation. The press-fit 3.5mm connectors provide tight, secure, and waterproof headset connections with a crisp, snap-lock design. A fiber weave abrasion resistant shield keeps the cable light and durable. One cable provides two connections to Super Sport helmet kits.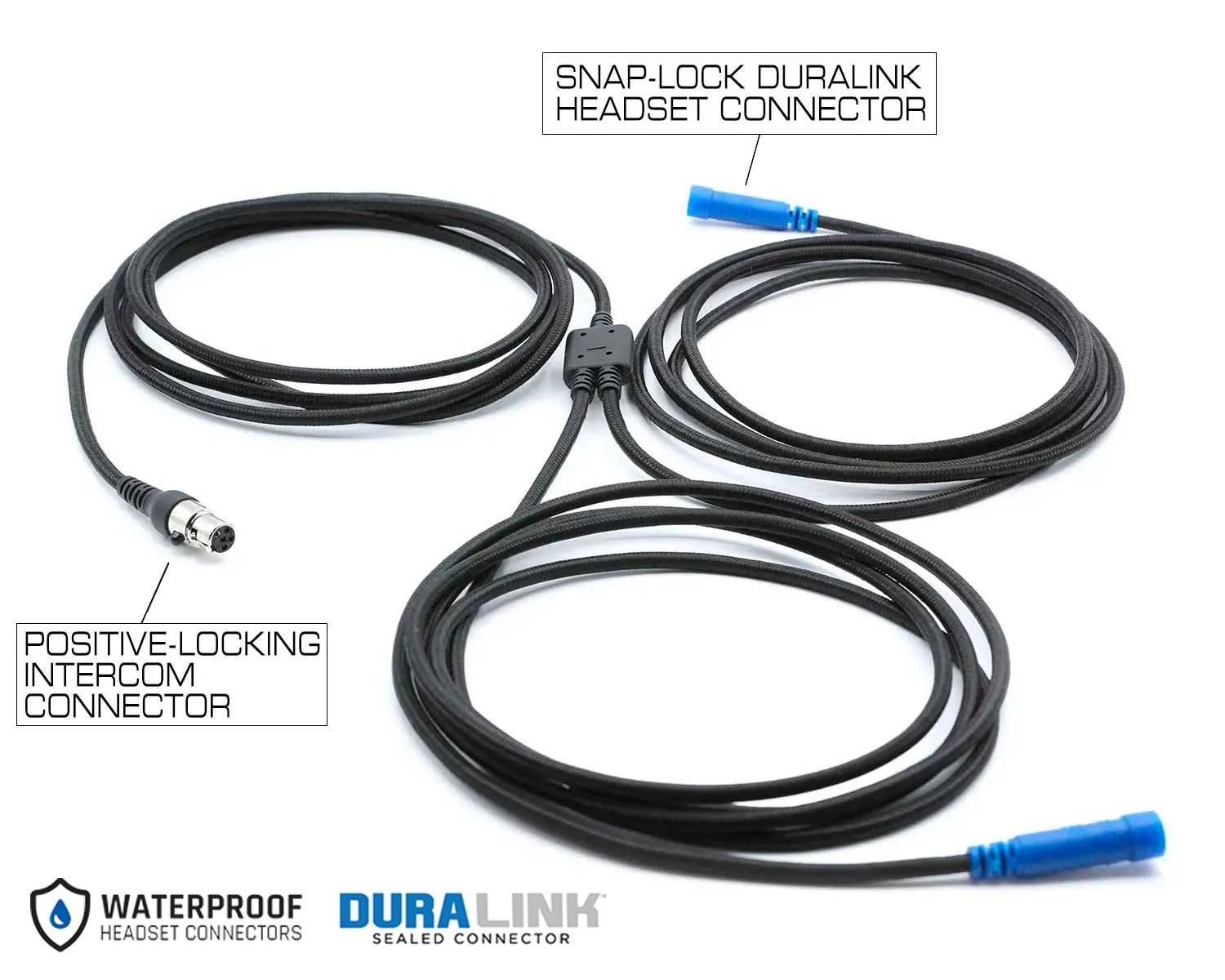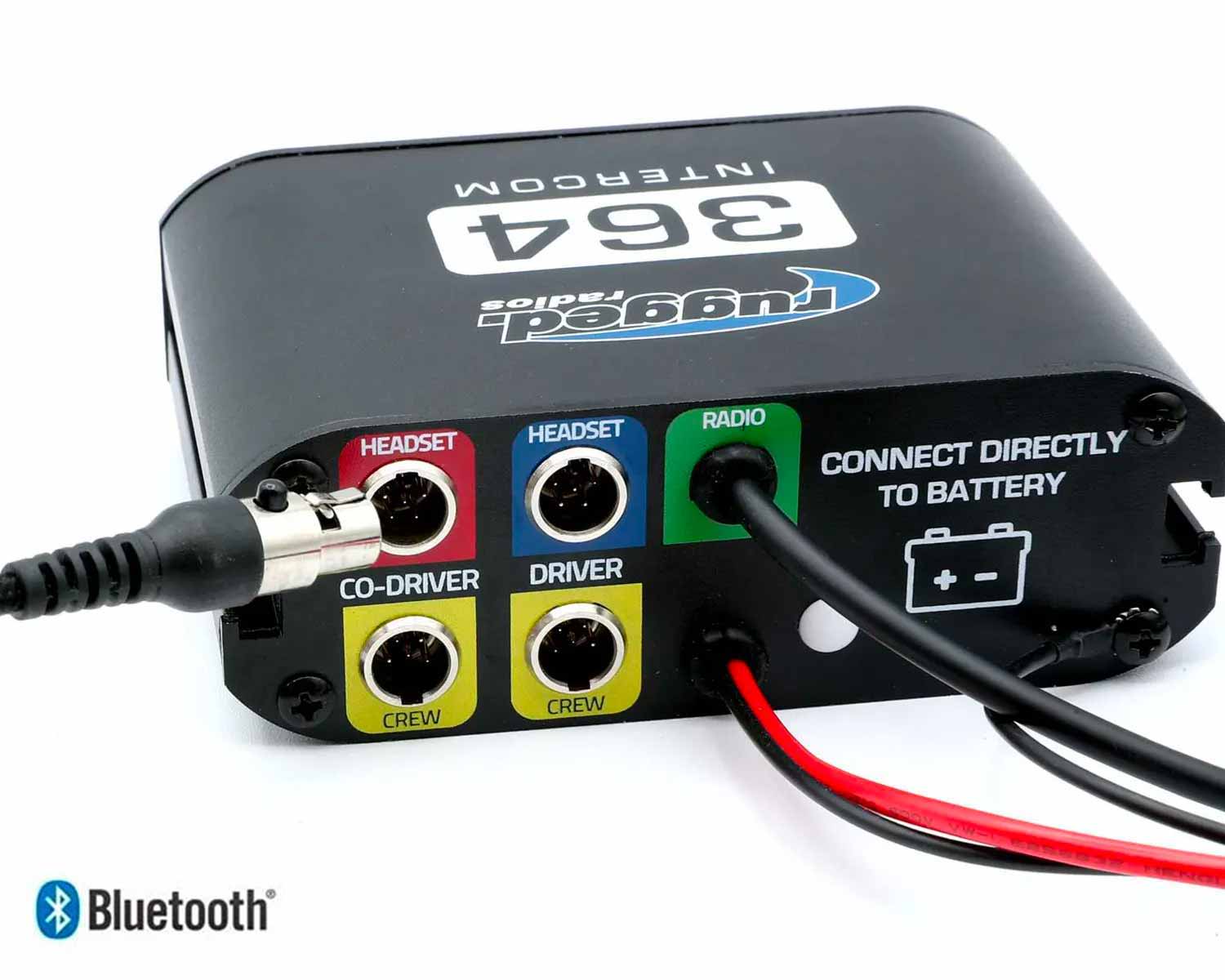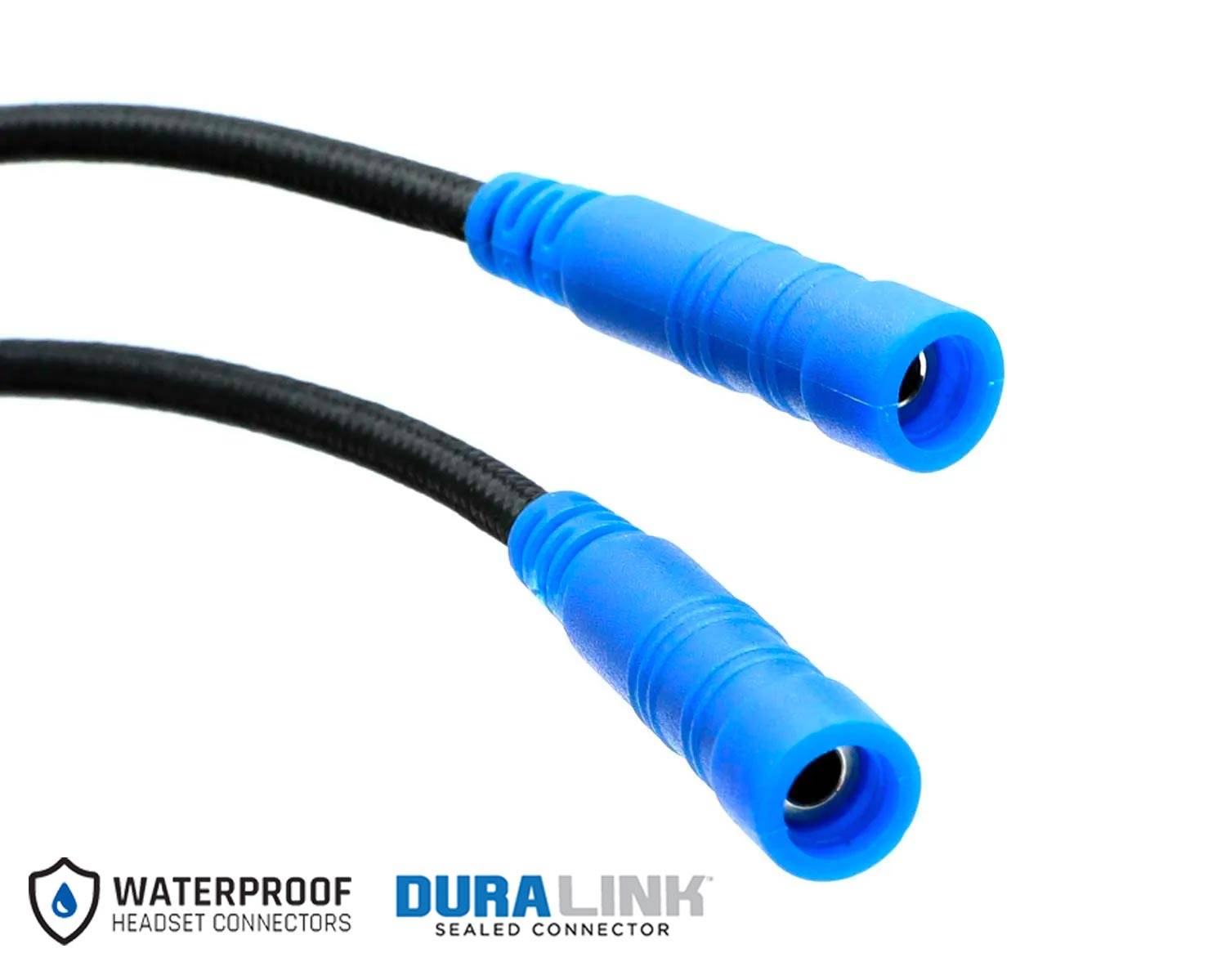 Recommended Radio Kits and Accessories
Add a radio kit for vehicle-to-vehicle communications.
Choose from BUSINESS BAND VHF/UHF or GMRS handheld and mobile radios.

-- CLICK HERE -- TO decide between a GMRS OR Business Band radio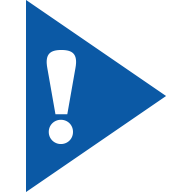 Before purchasing a radio, ensure you know what type of radio your friends, club, riding group, etc., are currently using. If you want to talk to them you need to be on the same band of radio. If your group is just getting started, and you aren't racing, we highly recommend using GMRS!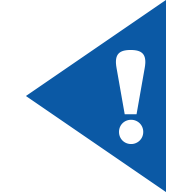 GMRS is easy to use and walkie-talkie compatible! The frequency band operates well in heavily wooded areas, or any environment with obstructions including canyons, mountains, and forests.
Examples of Use:
UTV Recreation
Overland
Jeep
Hiking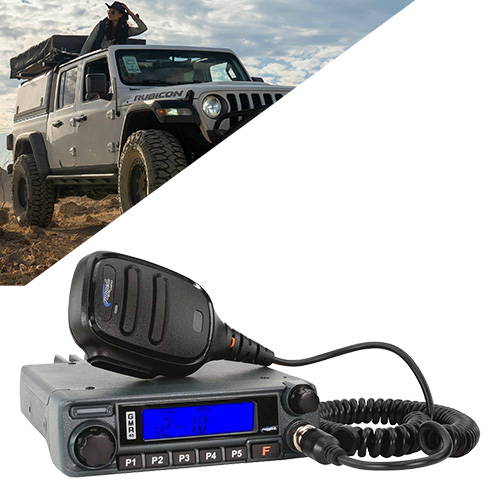 Business Band (VHF/UHF) is used by professional race teams for communication in offroad desert racing! Great for professional, industrial, manufacturing, agriculture and farming operations.
Examples of Use:

UTV offroad racing
Professional race teams
Commercial & industrial
Agriculture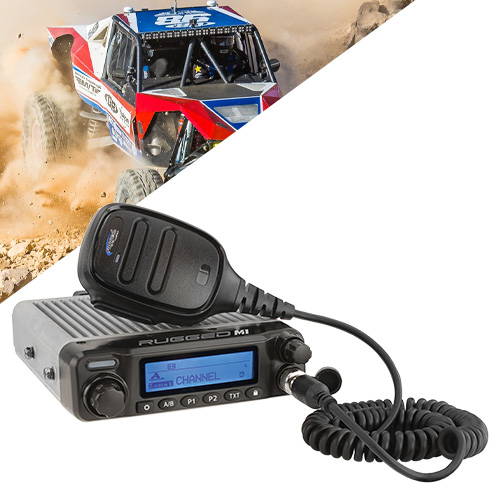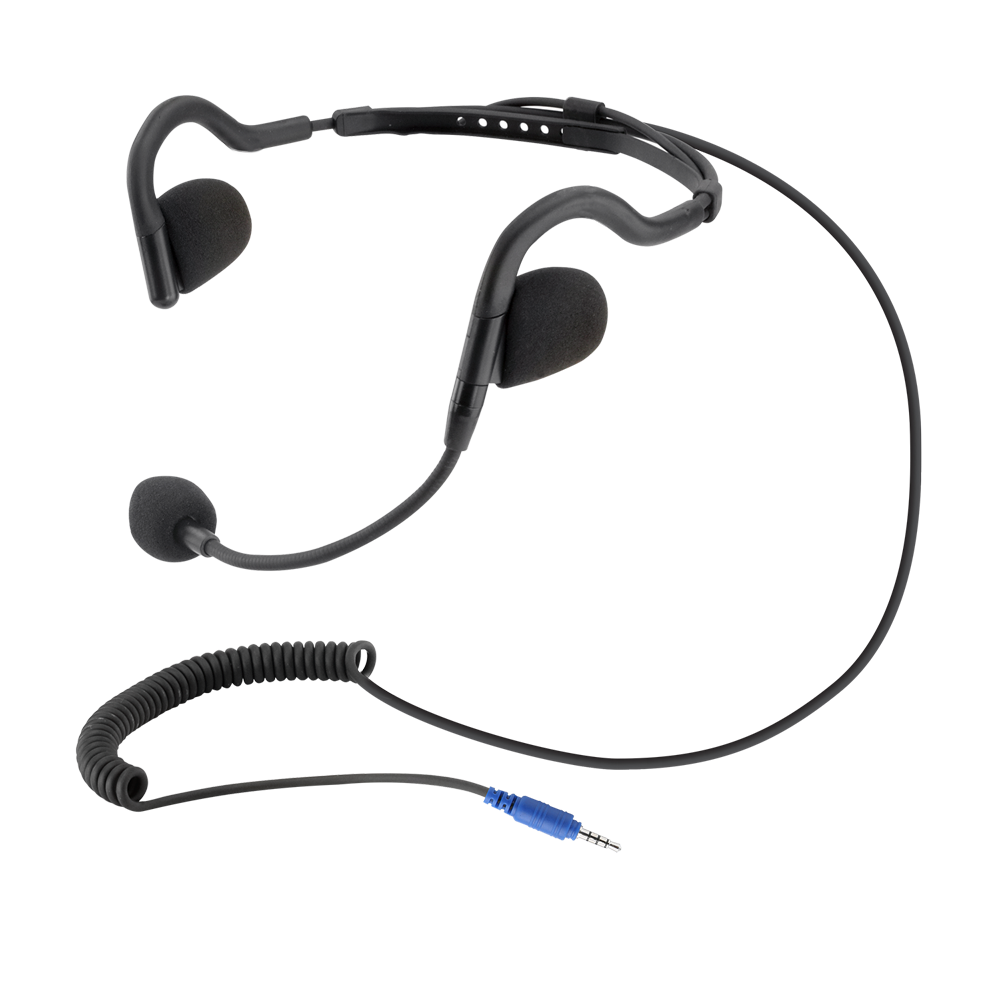 Lightweight behind-the-head design works great with half-helmets, baseball caps, and in situations where weight is an important factor.
The new Super Sport headset features a 3.5mm plug for compatibility with Super Sport cabling and intercom kits.

Dynamic noise cancelling mic ensures clear audio transmissions while a 34" cord expands to 6' to provide room for connectivity and mobility.

Features:
• Lightweight Design
• Dynamic Noise Cancelling Mic
• Adjustable Back Strap for Perfect Fit
• High Bend 6' ft Test Cabling
• Carrying Case with Handle