Complete UTV Communications Kits
Talk between passengers, communicate with other vehicles, listen to music and make phone calls with a complete UTV communication kit!
Talk to passengers without yelling. Speak and hear through headsets or helmet kits. Just start talking and the auto music-dimming attenuates your music, making conversation easy.
Ready to talk to other vehicles in your group? Simply press the included PTT (push-to-talk) on the steering wheel or grab-bar to transmit. Again, the music dims and you're ready to talk through our crystal clear M1 digital mobile business band radio.

For music and phone calls, simply pair your phone using the onboard Bluetooth and you're ready to stream. Easily connect to Ride Command, GPS, or any Bluetooth device. The high output amplifier provides high fidelity audio for the best in music enjoyment. The enhanced music controls allow you to shuffle through your music directly from the faceplate of the intercom.
Complete vehicle mounting solutions for Offroad, Racing, Overland, and Adventure.
Precise-Fit vehicle mounts, ergonomic interior locations, offroad friendly placement
TRUCK AND JEEP RADIO MOUNTS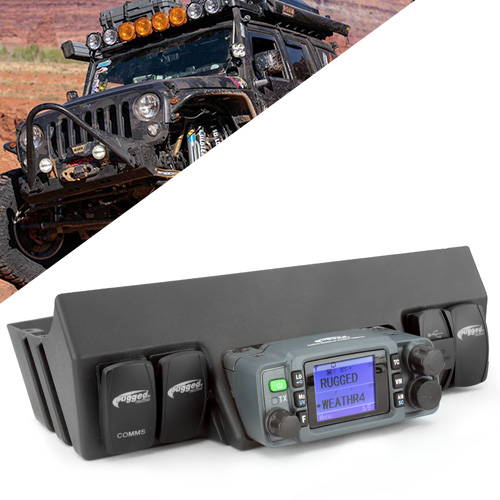 RADIO AND INTERCOM MOUNT FOR THE kawasaki TERYX KRX 1000 UTV
The Multi-Mount System for Kawasaki Teryx KRX 1000 provides a simple and clean installation for your two-way mobile radio and Rugged intercom.