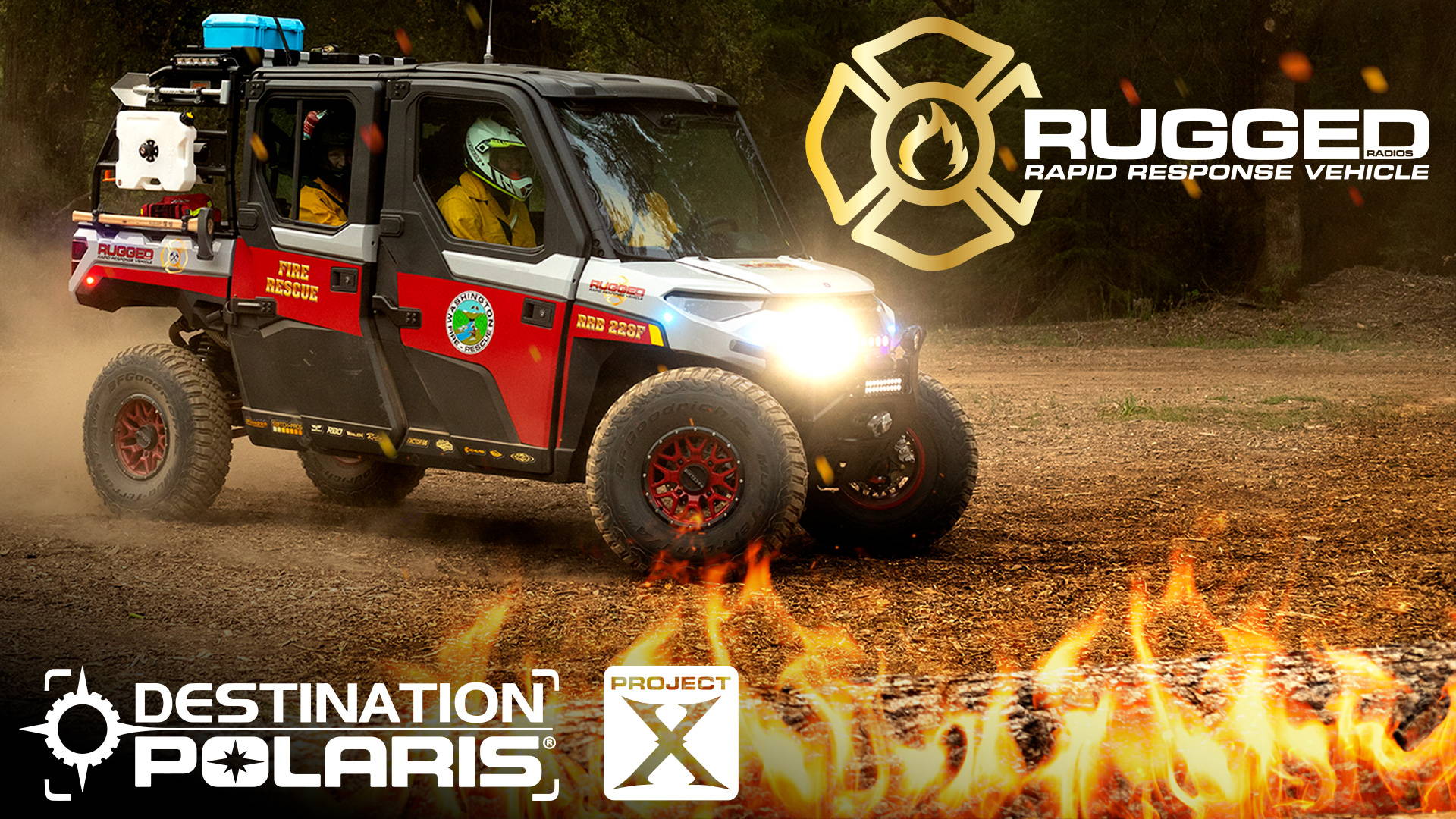 Rugged Radios Gives Back to California Firefighters
Over the past several years, California has been devastated by the worst fires in the history of the state. Entire communities were erased, first responders overwhelmed, and in desperate need of any and all assistance from outside sources. Seeing the overwhelming need and identifying the lack of resources to handle such situations, Rugged Radios, an industry leader in high noise environment communications, was eager in finding a way to help. Thus, a project was born...
Project X: The Ultimate Rapid Response Vehicle
Owner and founder of Rugged Radios, Greg Cottrell, feels that knowledge and awareness in the UTV community is of paramount importance. That belief is what led Rugged Radios to becoming a title sponsor for the #1 Off Road TV Show in America, Destination Polaris.
Each and every Project X means something to him or stems from a need brought forth in the community. Without any incentives or special discounts from dealers, Greg pays full MSRP for each vehicle and builds it with a specific purpose in mind.
Greg has been known to carefully craft each Project X build from the ground up, designing it towards maximum functionality while prioritizing clear communications for any situation.
This build will be given to one deserving fire department in California.
Rugged Radios. Who are we and whatdo we do? We are a manufacturer of high-noise environment communication equipment. Everything from two way radios, for short and long distance communications, to intercoms that can be used for talking in-vehicle with your passengers. If you need to communicate in loud noise, that's what Rugged Radios does."
— Greg Cottrell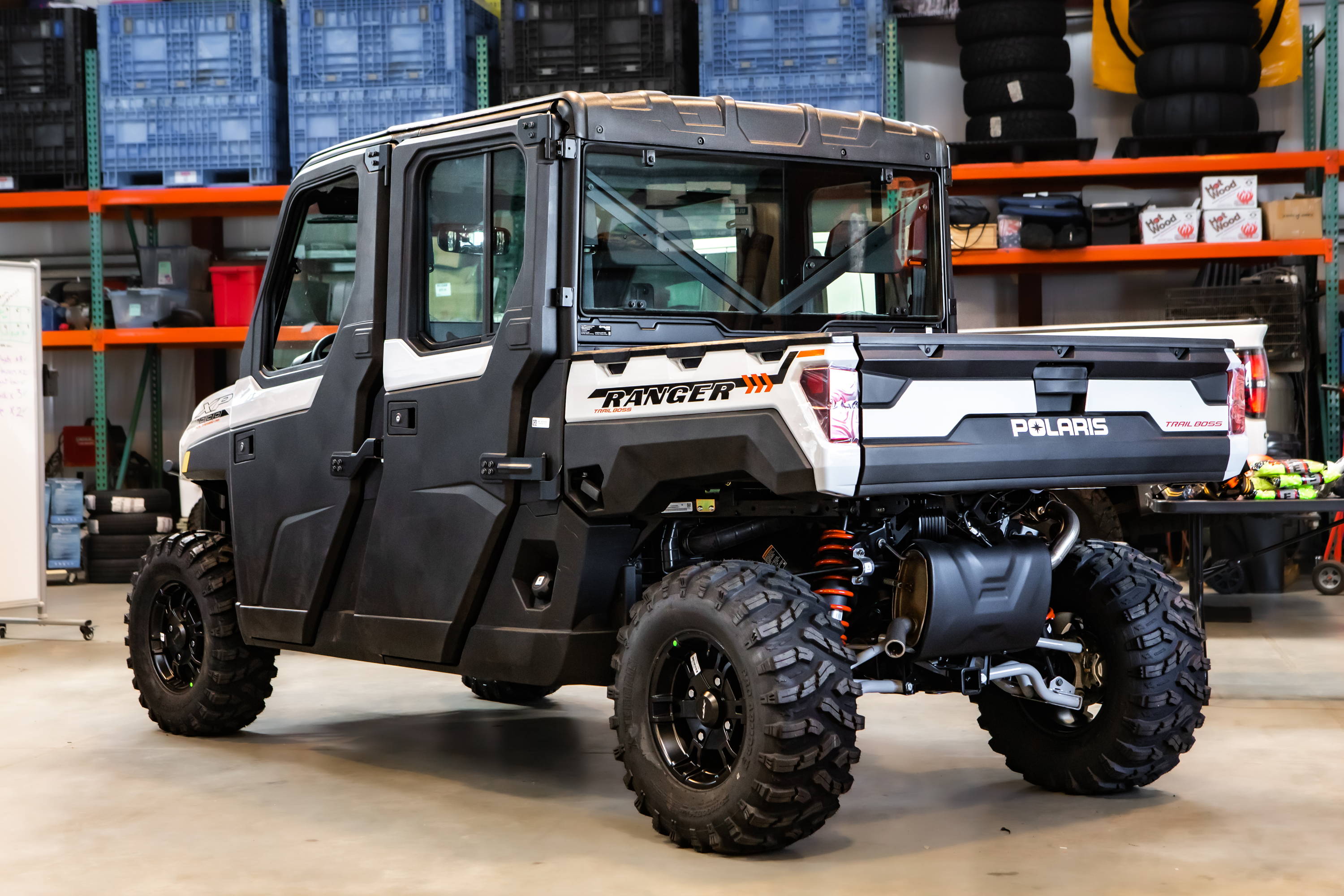 A completely stock 2022 Polaris Ranger sits in the Rugged Garage ready to be transformed into the Ultimate Rapid Response Vehicle.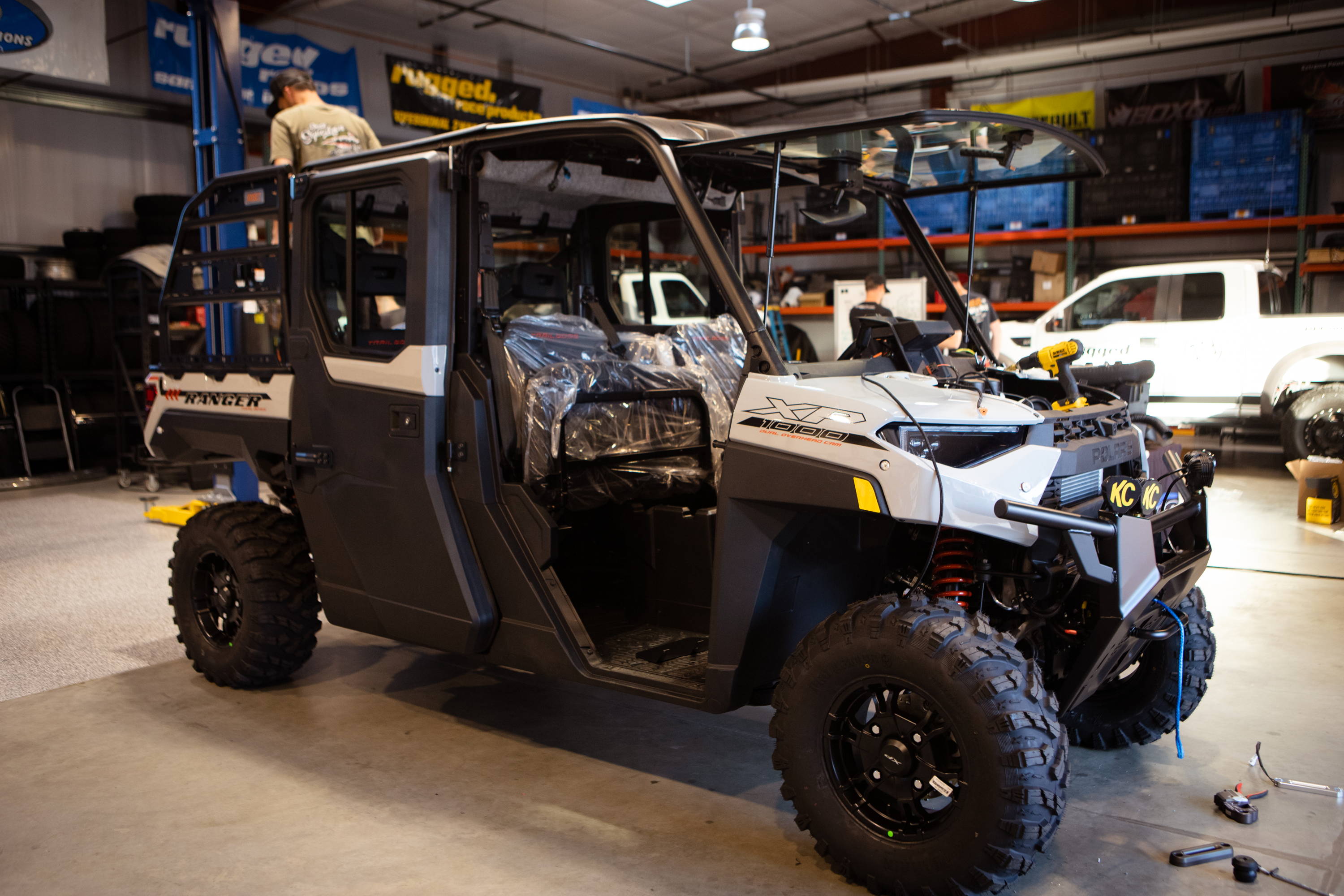 Tear down of the vehicle in the Rugged Garage consisted of detaching doors, stripping stock decals, an ultimate rewiring, and taking off factory parts.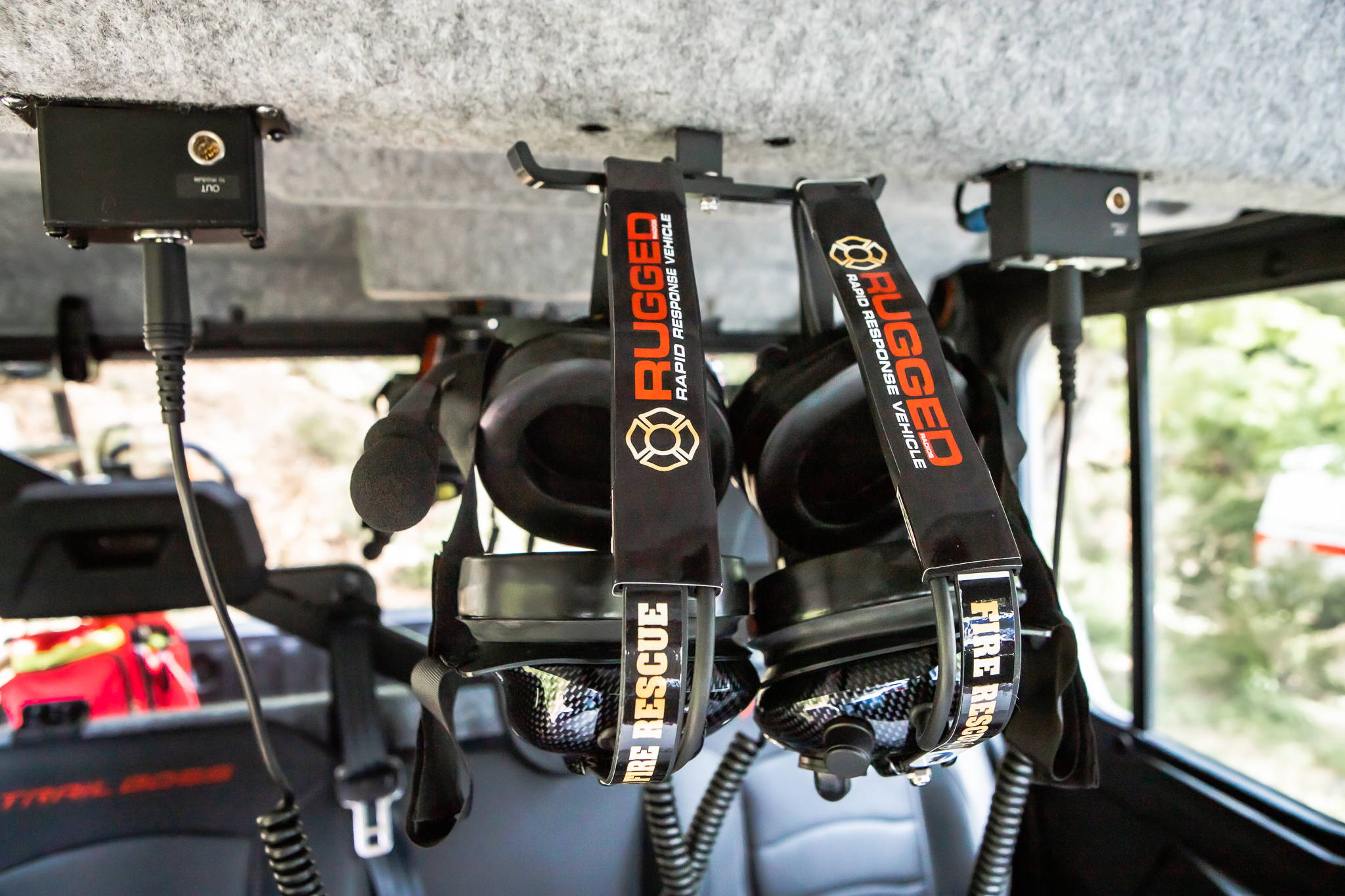 The Ultimate Rapid Response Vehicle will be equipped with Rugged Radios industry leading Fire & Safety Intercom, Headsets, and Quick Lock Coil Cords.
---
"This whole build is purposefully thought out to GIVEBACK to our dedicated California firefighters."
-Greg Cottrell
It is with the extreme delight of every company and volunteer involved in this project, to announce a new era of Project X builds. This chapter includes a build that is not only built to perform off-road, but is also designed to be a life saving medium for one lucky California Fire Department. That one lucky recipient will be handed the keys to this brand new Ultimate Rapid Response Vehicle.
Customizing a brand new 2022 Polaris Ranger means that Rugged had to take this build to the next level and provide an UTV that delivers life saving equipment to areas that are often inaccessible, except by air. Rugged Radios is known for being an industry leader in off road & race communications, but many are unaware that Rugged provides communications for emergency vehicles, aviation, and agriculture as well.
Once the road map was drawn for the project, it was time to call in the reinforcements. Rugged reached out to several partners to guarantee this build was outfitted with nothing but the best products in the industry. Without these partners, this project wouldn't have been possible. (See full sponsor list below)
In addition to our partners, this Project X build also wouldn't have been possible without all of the hard work from these awesome volunteers: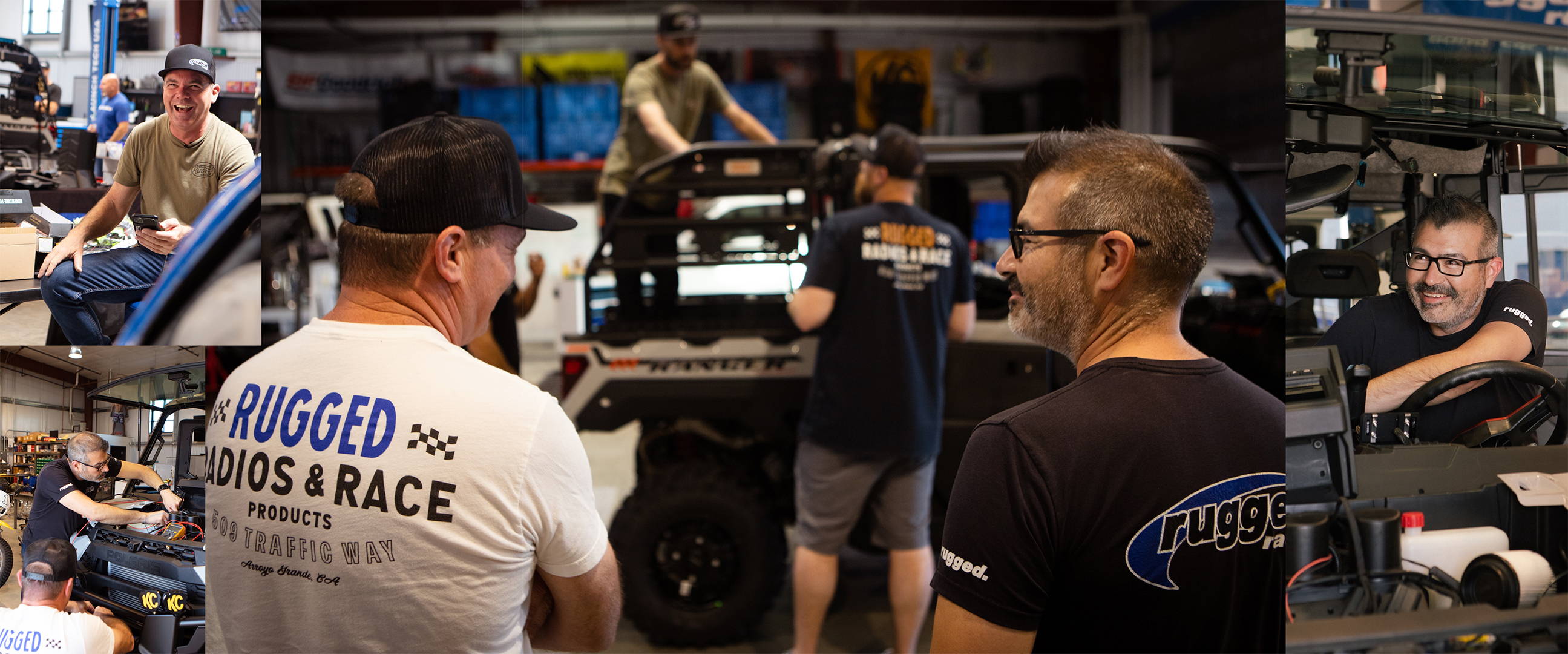 "The two Steve's, my right and left hand. Those guys are amazing, and dedicated to this company. I just couldn't do it without them."
-Greg Cottrell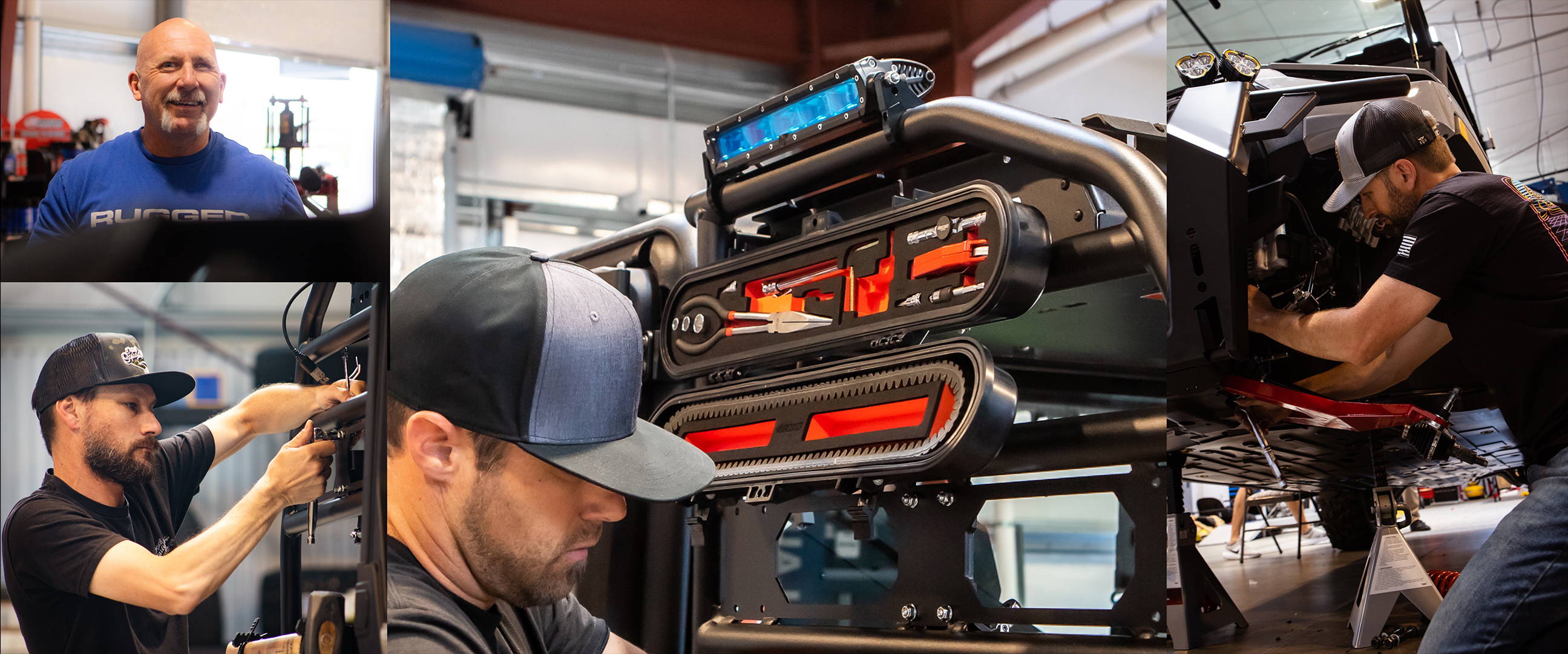 We have Jon Lewis, from Desert Squadron. He dropped what he was doing and said ' I'm in, just tell me what to do' and he was ready to go. He builds the best trauma kits in the business, and is an invaluable part of our offroad community.
Then there is Matt Scarpuzzi with Savage UTV, who is also a fireman. This guy has incredible products, but he's also an incredible man. He dove in and anything that needed to be built or fabricated, no questions asked, he just did it.
And we have Kevin Jones, our local Ultra 4 racer. He came over this morning and jumped right into installing the suspension to get this thing dialed in. It's what he does best!"
-Greg Cottrell
---
After receiving numerous video submissions for entry, the Rugged family sat down to assess the urgency and need of each department. Once the competition was narrowed down to three departments, Cottrell sat down and researched each of the surrounding areas.
While they had many great submissions to choose from, one stood out above all the rest.
It was time to get to work! Over 100 hours of planning, fabricating, constructing, decaling, and cleaning later, it was time to deliver this brilliant build to one very unsuspecting fire department.
"We had a lot of great fire departments to choose from, but I think we found THE ONE."
-Greg Cottrell
The Winners of Project X...
Washington, California. The most deserving recipients of the Ultimate Rapid Response Vehicle.
Underneath the towering pine-forest canopies, nestled beside a picturesque winding river in Nevada county, this small mountain community thrives on the culture and lifestyle of OHV usage. The population of this town is one hundred and sixty six people. 166 people make this small community a destination for the thriving culture of off-roading, camping, and fishing. This small, volunteer operated fire department only has a budget of $15,000 per year to protect this valuable community and environment. The Fire Captain, Mike Stewart, gets paid a whopping $1 PER YEAR to risk his life and provide safety to those around him.
Watch the Washington, CA department video submission
Washington, CA Fire Captain, Mike Stewart poses with the department's new Polaris Ranger.
This laid-back community had no idea what was in store for them on that balmy Thursday afternoon. The Fire Captain, Mike Stewart, who was busy preparing for a training session, was informed that Rugged Radios would be visiting the area that very afternoon for an in-person interview of one of the finalists.
"Just learning that we were finalists
was a big enough deal for this town."
-Mike Stewart
During the "finalist interview", which was spearheaded by Cottrell, townspeople came out of their homes, businesses, and paused their day just in time to witness Project X pull around the bend. With the help of Pat Sullivan, Division Chief at Nevada County Consolidated Fire Department, Rugged was able to formulate a plan of surprise that ended up being better than anyone could have planned. As it turns out, Sullivan is longtime friends with Stewart. The plan was in motion from that conversation forward and they helped the Rugged team apply final touches on the build, as well as provide an escort and delivery of Project X itself.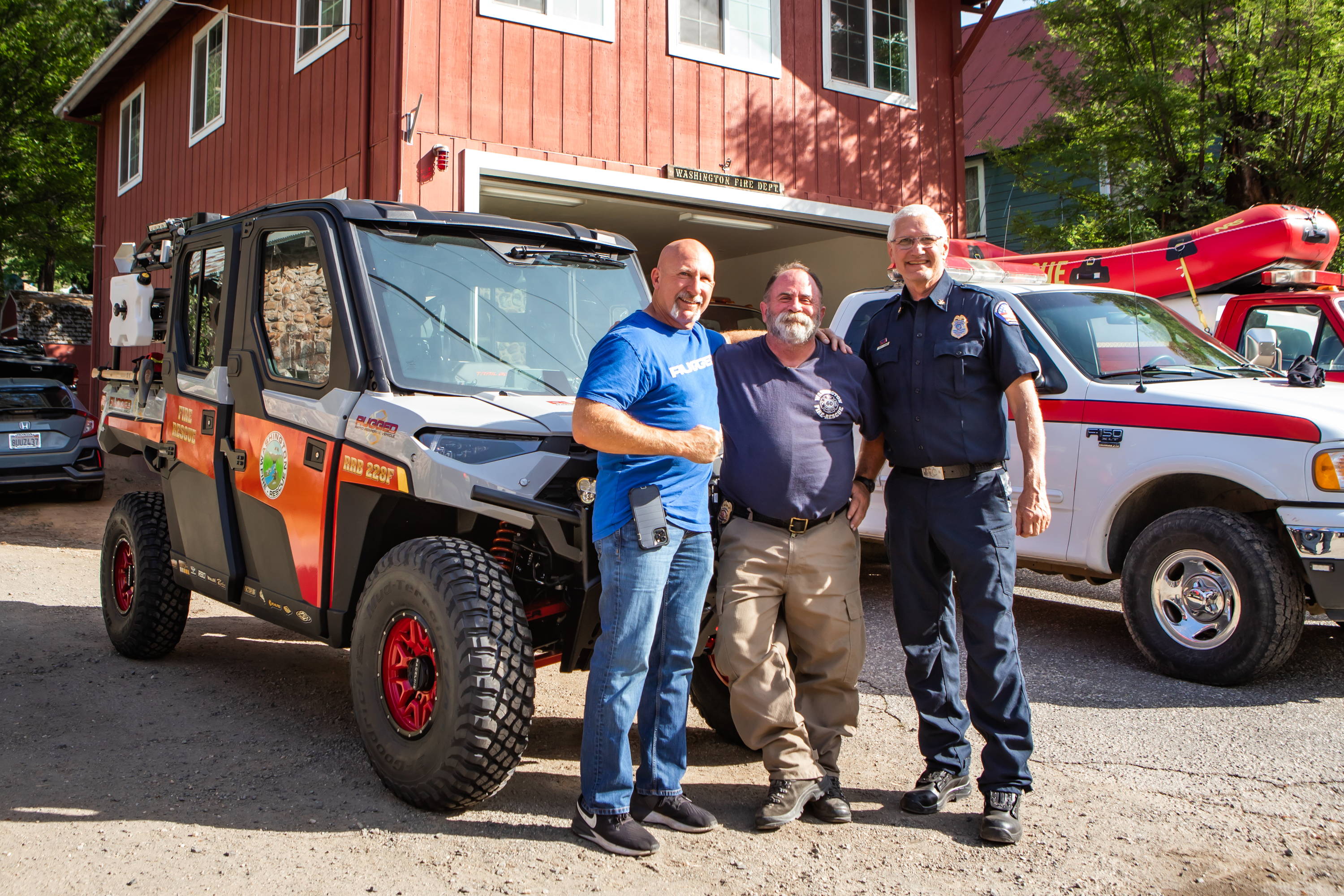 From left to right- Greg Cottrell, Mike Stewart, and Pat Sullivan pose in front of the Washington, CA fire department and their new Rapid Response Vehicle.
"This couldn't have gone to a more deserving department."
-Pat Sullivan
Confusion and shock were on every single volunteer firefighters face as they stared at this Ultimate Rapid Response Vehicle that was now theirs. The cameras were rolling as the shock danced heavily in the air. Stewart then warmly embraced Cottrell with many thanks while uttering his disbelief at the situation. The four volunteers behind him broke into applause and cheers of celebration congratulating him for a job well done. You could see the excitement in their faces and the underlying plot each one had to drive this awesome vehicle.
After a brief summary of the build and a rundown of how everything worked, the Washington, CA volunteer fire department embarked on a mission into the wilderness to drive, practice, and train with their new Rapid Response Vehicle.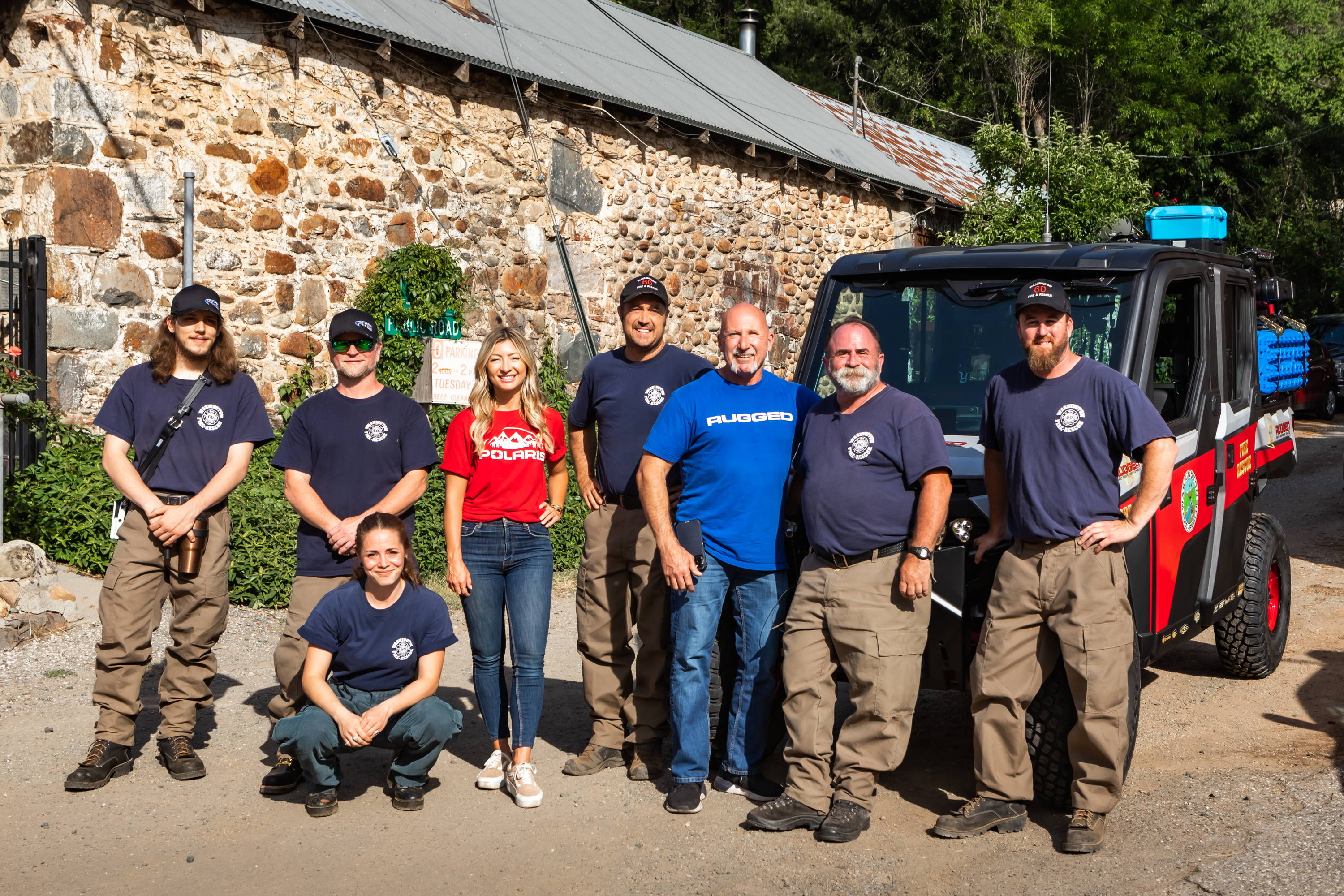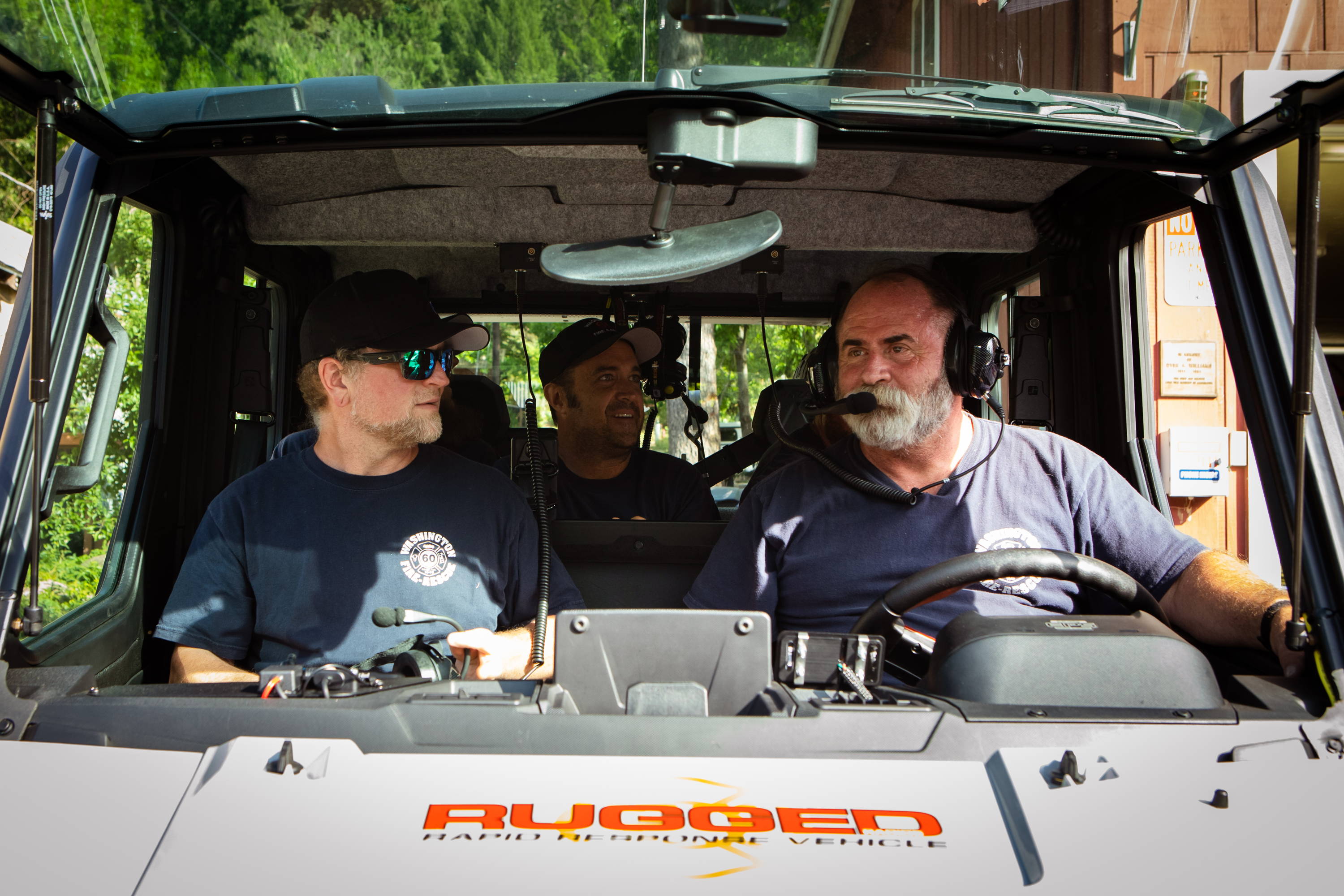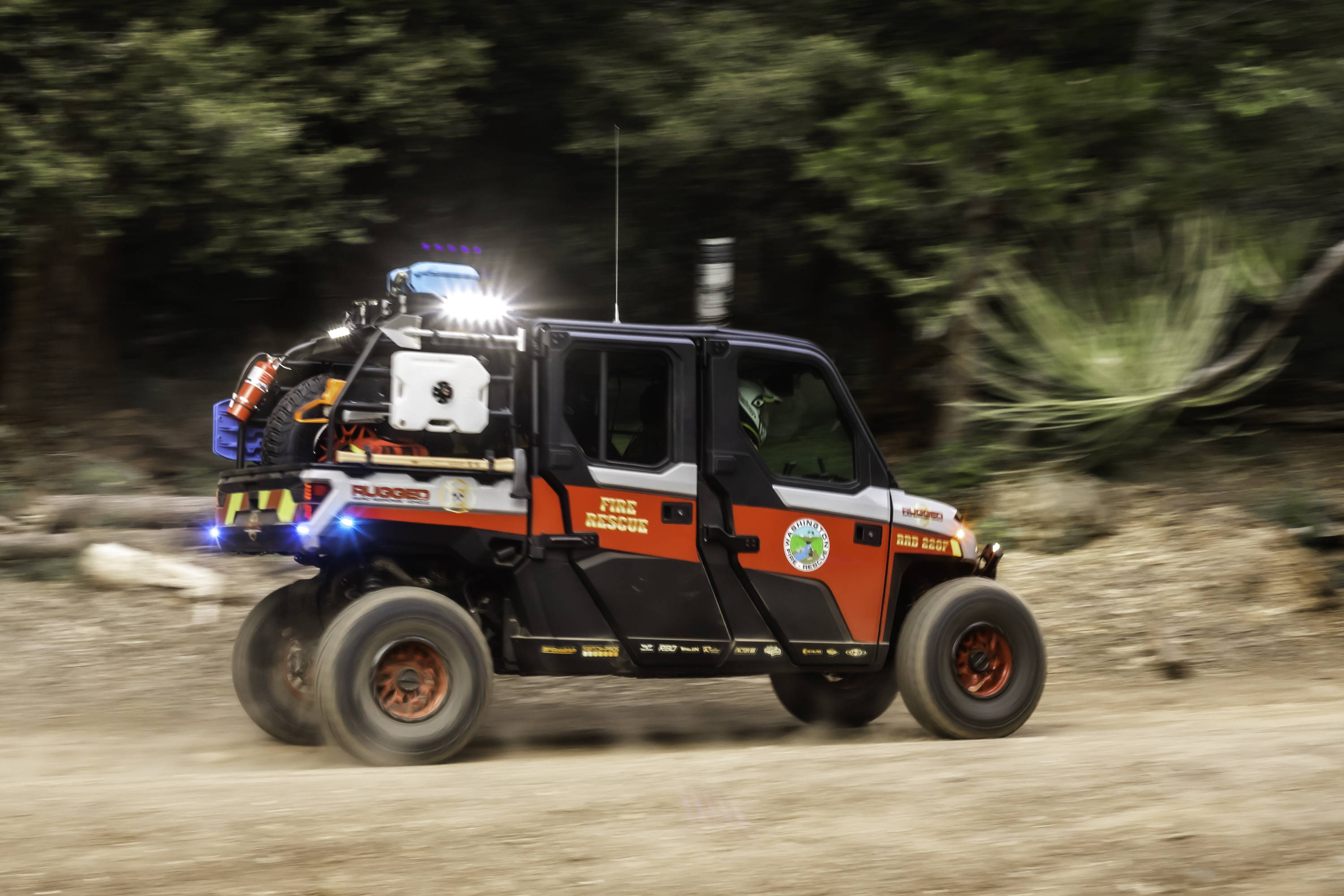 As the sun set on Project X, everyone enjoyed a celebratory toast and some down home tacos at the Washington Hotel: Cafe. When asked, Cotrell was all smiles about handing over the keys to this Ultimate Rapid Response Vehicle. It was the perfect way to support the men and women who continuously put their lives on the line to keep us all safe.
"It's a PROUD moment to hand over the keys to a deserving Fire Department!"
-Greg Cottrell
The only question that remains... what's next? As of right now, we are unsure.
If you have a suggestion, LET US KNOW!!!
WATCH the FULL EPISODE HERE
---
Partners for The Ultimate Rapid Response Vehicle

Previous Project X builds include the SS1, Rugged Family Truckster, Baja RZR, Beach buggy, Rugged '32, the Rugged General, and the infamous Save the Dunes Project X.

---
Rugged Radios Fundraising Total Amount to Date: