prerunner communications for the clearest communication

Prerunners are a different breed. Your vehicle and communication needs are unique from the actual race car. We've put together the top components you need in your Prerunner to provide the best in communication and still have fun along the way.
Premier radio kits, intercoms with Bluetooth for phone and music streaming, and Race Series cabling all come together for the best in communications.
Explore the collections, get the right equipment, and get your team to the finsih line first.
prerunner communications to plot and plan a winning course

Whether you're having conversation in-car only or back to the pits, we've selected the best equipment for Prerunners to provide clear and reliable long range communication.
2-WAY MOBILE RADIOS AND INTERCOMS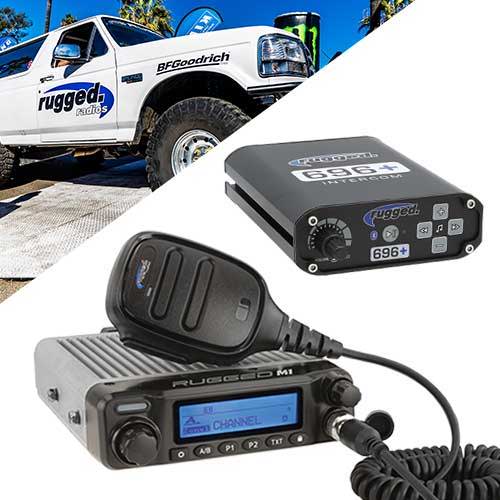 Mobile race radios
Digital / analog audio clarity
Powerful transmit amplifier
Race intercom options
Driver / co-driver features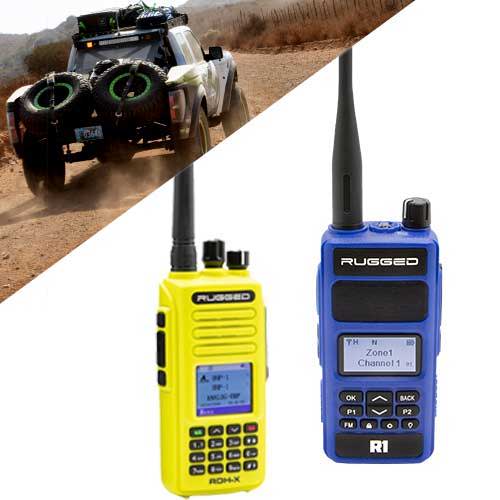 Digital / analog audio clarity
Perfect for spotting

Dual band, VHF and UHF
Single band, digital, and analog
LONG RANGE MOBILE RADIOS AND INTERCOM KITS

The waterproof M1 represents the best radio we've ever produced. Not afraid of water. Not afraid to race. Develeoped here at Rugged Radios, the M1 IP67 radio offers incredible performance with superior digital audio clarity. Race intercom kits deliver unique and specifically developed for race drivers and co-drivers.
DIGITAL AND ANALOG HANDHELD RADIOS

Professional offroad race teams rely on Rugged Radios business band handheld radios for communication in extreme desert environments. We offer a variety of dual band, VHF and UHF, single band, digital, and analog compatible radios.
BASE CAMP AND PIT SUPPORT RADIOS

RACE SERIES ANTENNAS AND COAX CABLE

Race Series antennas and coax cables are engineered to deliver the best radio performance for clear and reliable communications.
INTERCOM and 2-way radio HEADSETS

Shop hard-wired intercom headsets, ready to connect to your intercom. Explore 5-pin headsets to connect to intercom or 2-way handheld radio.
RACE SERIES INTERCOM, HANDHELD RADIO, AND GOPRO CABLES

Connect your helmet kit to your intercom with shielded high performance cables. With the record cable, capture the action on your GoPro or recording device for the clearest audio and cinematic experience.