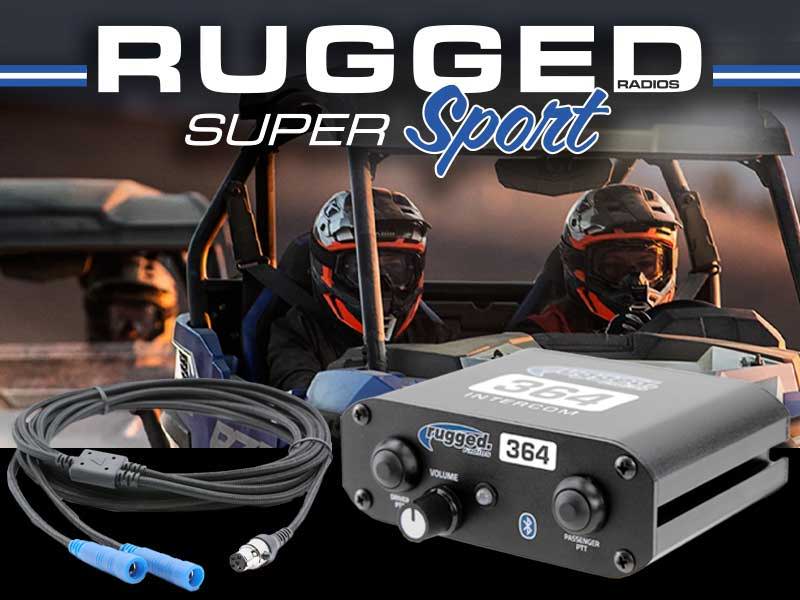 Intercom Rugged 364 SS, Muscia en Streaming, Platica con tus Pasajeros y Comparte tu AVENTURA EN EL MOMENTO !
Rugged 364 SS Fácil de Instalar y Fácil de Utilizar.

El Nuevo Kit Intercom o Intercomunicador Rugged 364 Super Sport te brindará una conversación confiable entre piloto, copiloto y pasajeros dentro de tu UTV o SXS. El Intercom Rugged 364 Super Sport es tan sencillo de utilizar como encender, ajustar el volumen y comenzar a platicar. Podrás agregar tu música simplemente conectando tu dispositivo a la versión más actualizada de Bluetooth 5.0, con la cual podrás disfrutar tu música en alta Fidelidad al igual que disfrutas tu Ruta y Compartir sus experiencias en el momento.
PLATICA HASTA CON 4 PASAJEROS
Con el Nuevo Cableado Super Sport, podrás conectar un solo cable Serie Super Sport al Intercom Rugged 364 teniendo dos salidas para conectar DOS Audifonos con Microfono o Headsets, lo cual te hará convertirlo fácilmente y a un precio accesible en l.
DISFRUTA DE SU ALTA FIDELIDAD EN MUSICA Y TU SISTEMA DE NAVEGACION
Disfruta de la increíble experiencia con el Intercom Rugged 364 gracias a su Bluetooth 5.0 y aptX. Escucha las indicaciones de tu GPS y disfrutaras mas las aventuras.
REALIZA Y RECIVE LLAMADAS TELEFONICAS
Conecta tu Smart Phone, Recive y Realiza llamadas telefónicas con una comunicación Efectiva y Clara.
FACIL DE INSTALAR
El Nuevo Cableado de la Serie Rugged Super Sport cuenta con dos conectores para conectar hasta dos Headsets o Kit Audífonos y Micrófono conectando un solo cable a la parte trasera del intercom Rugged 364. Así de Fácil y Sencillo!
FACIL DE UTILIZAR
El Intercom Rugged 364 con su botones PTT (push-to-talk) integrados ya NO requerirás cables adicionales para botones PTT. Después de que conectes tu Radio móvil o Radio GMRS solo presiona el botón PTT y te podrás comunicar de vehículo a vehículo. Piloto y Copiloto podrán platicar con el sistema manos libres que te brida el Kit de Intercom Rugged 364 Super Sport.
El Intercom Rugged 364 Super Sport esta listo para conectar cualquier Radio Rugged gracias a su sistema integrado Rugged Ready! Agrega Cualquier Radio Rugged, ve mas lejos y compartiendo tus experiencias de vehículo a vehículo en el momento.
• Manos Libres, Comunicación Clara e Instantánea
• Realmente Alta Fidelidad
• Conectores Rugged para uso Rudo DuraLink con cierre a presión
• Alta calidad en la cubierta del cable (Fiber-Weave), Cables Ligeros
• Fácil Acceso a los botones PTT's
• Kit de Audífono y Micrófono facil de utilizar.
• Bluetooth 5.0 con aptX
• Fácil de Instalar y Fácil de Utilizar
Con el Kit Intercom Rugged 364 Super Sport Disfrutaras tus platicas, el camino y tus acompañantes. Diviértete, Comunicate y Siéntete Seguro Con Rugged
Accesible. Simple. Fácil. Efectivo.



Cableado Serie Super Sport
Los Nuevos Cables de la Serie Rugged Super Sport son mas ligeros y están diseñados para una fácil instalacion. Los Conectores 3.5mm proporcionan una coneccion segura y ajustada, el conector con el sistema de audífonos tiene un diseño de cierre a presión el cual te ayudara a mantenerlo a salvo del agua. El forro de protección en el cable ayuda para ser un cable ligero y duradero. Un solo cable de la Serie Rugged Super Sport te proporcionara dos conexiones para Bocinas con Micrófono de la Serie Rugged Super Sport.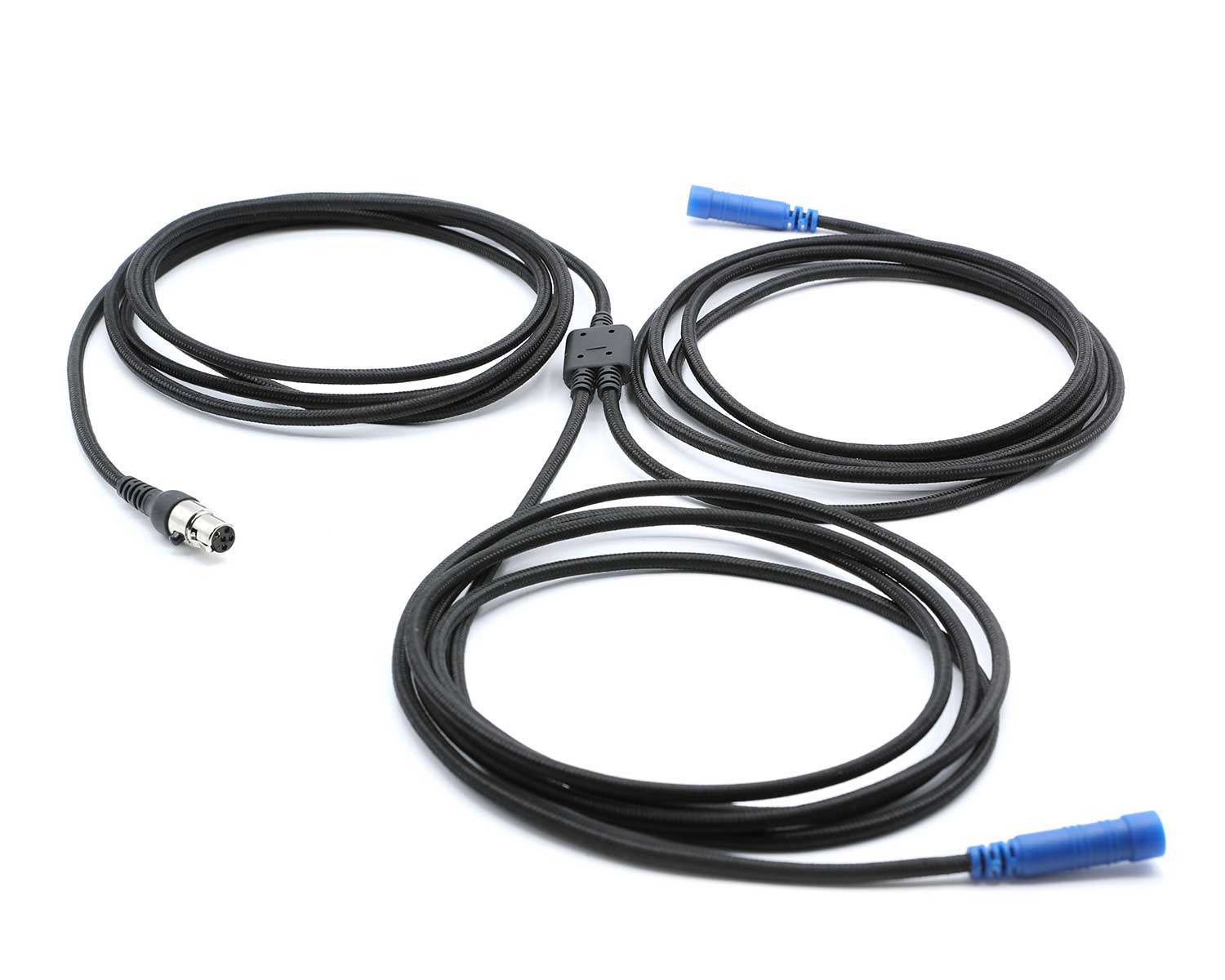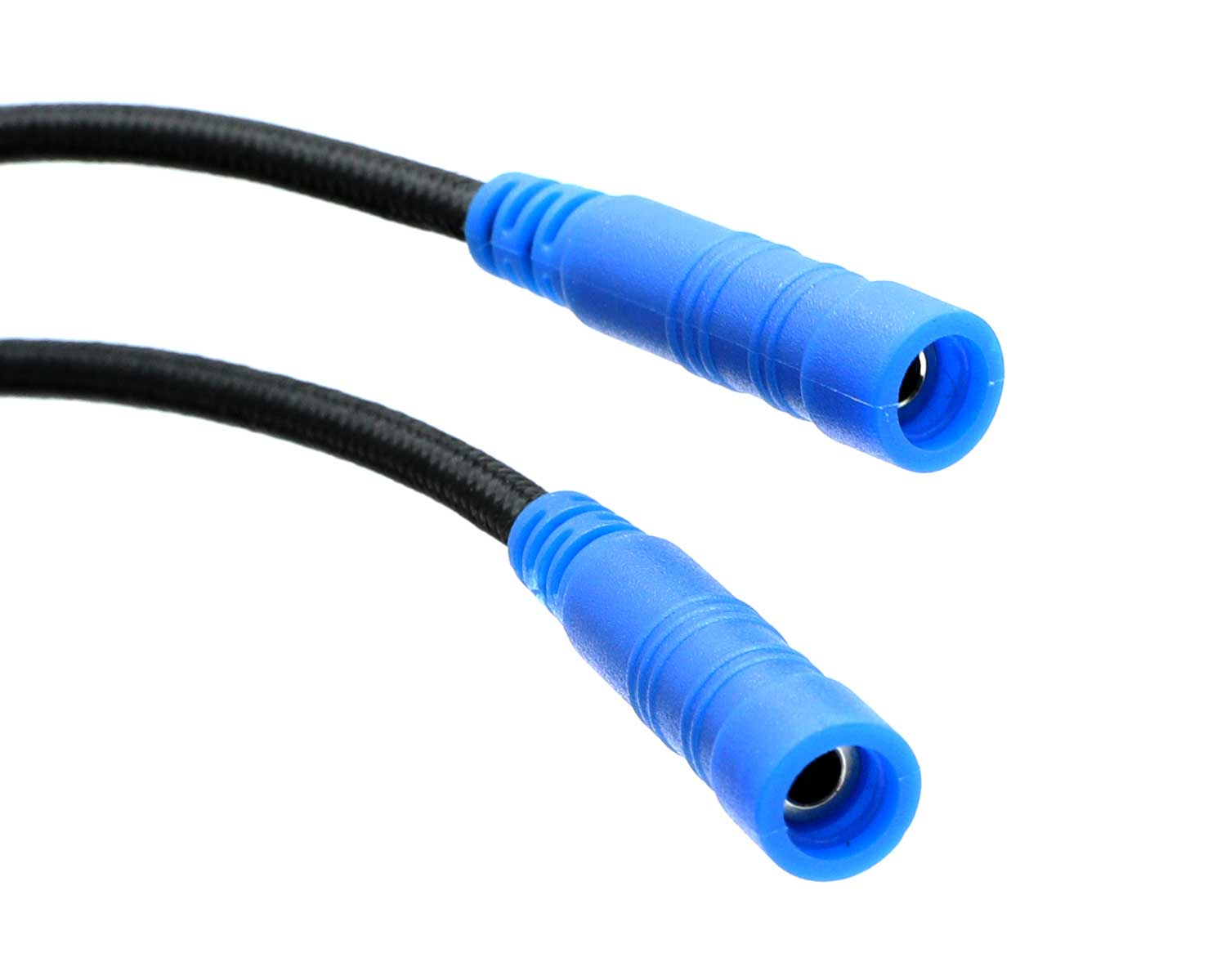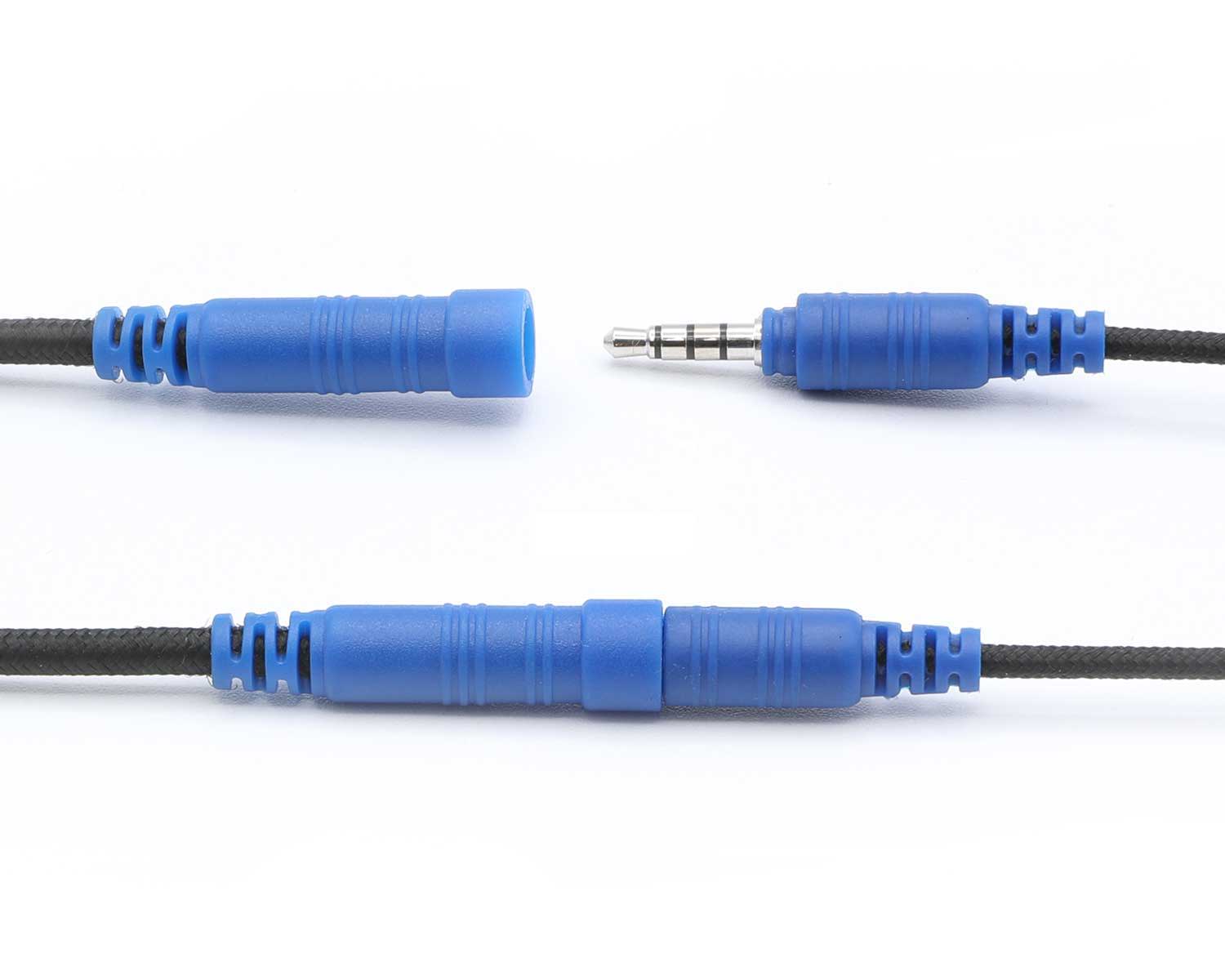 Kit de Radios y Accesorios que Rugged te Recomienda
Agrega un Kit de Radio Comunicación a Tu Vehículo, con el cual podrás comunicarte de Vehiculo a Vehículo.
Selecciona entre BUSINESS BAND VHF/UHF o GMRS Walki Talki.


-- DA CLICK AQUI -- PARA DECIDIR QUE BANDA NECESITAS, GMRS O BANDA DE NECOCIOS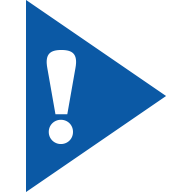 Antes de Comprar tu Radio asegúrate que tipo de radio o banda utiliza tu Grupo de Amigos, tu club o las personas con las que planeas salir de Ruta. Si deseas hablar o comunicarte con ellos tendrás que tener la misma banda y frecuencia. Si tu grupo apenas esta comenzando y no son corredores, Rugged te recomienda utilizar la Banda GMRS!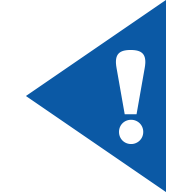 La Frecuencia GMRS esta lista y es compatible con los Radios Móviles y walkie talkie! La Frecuencia GMRS trabaja mejor en areas donde hay Arboles, Cañones, Montañas o entornos con obstrucciones.
Ejemplos de Uso:
Uso Recreacional en UTV, SXS, ATV
Overlanding
Jeep o Tacoma
Hiking, Senderismo y Cacería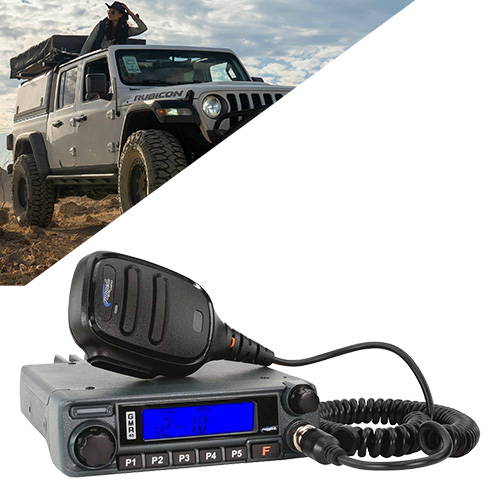 Radio 2 Metros con frecuencias (VHF/UHF) son utilizados por los equipos de carreras profecionales para carreras de Off Road y Carreras en Desierto,! Es exelente para uso, industrial, maquiladoras, agricultura, restaurantes, escuelas, y Empresas de Seguridad.
Ejemplos de Uso:
Carreras Off Road de UTV, SXS, Equipos Profesionales de carreras, Uso Comercial, Industrial, Seguridad, Eventos, Construccion, Oficinas y mucho mas.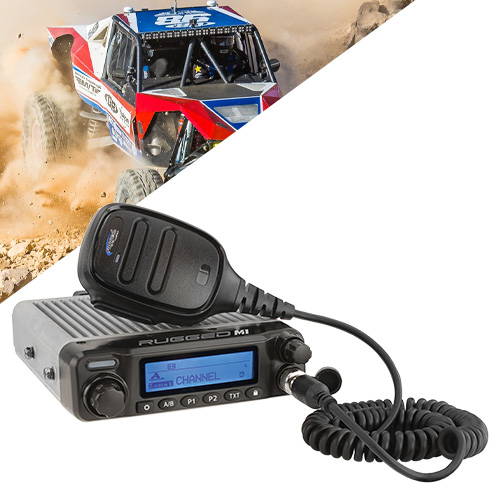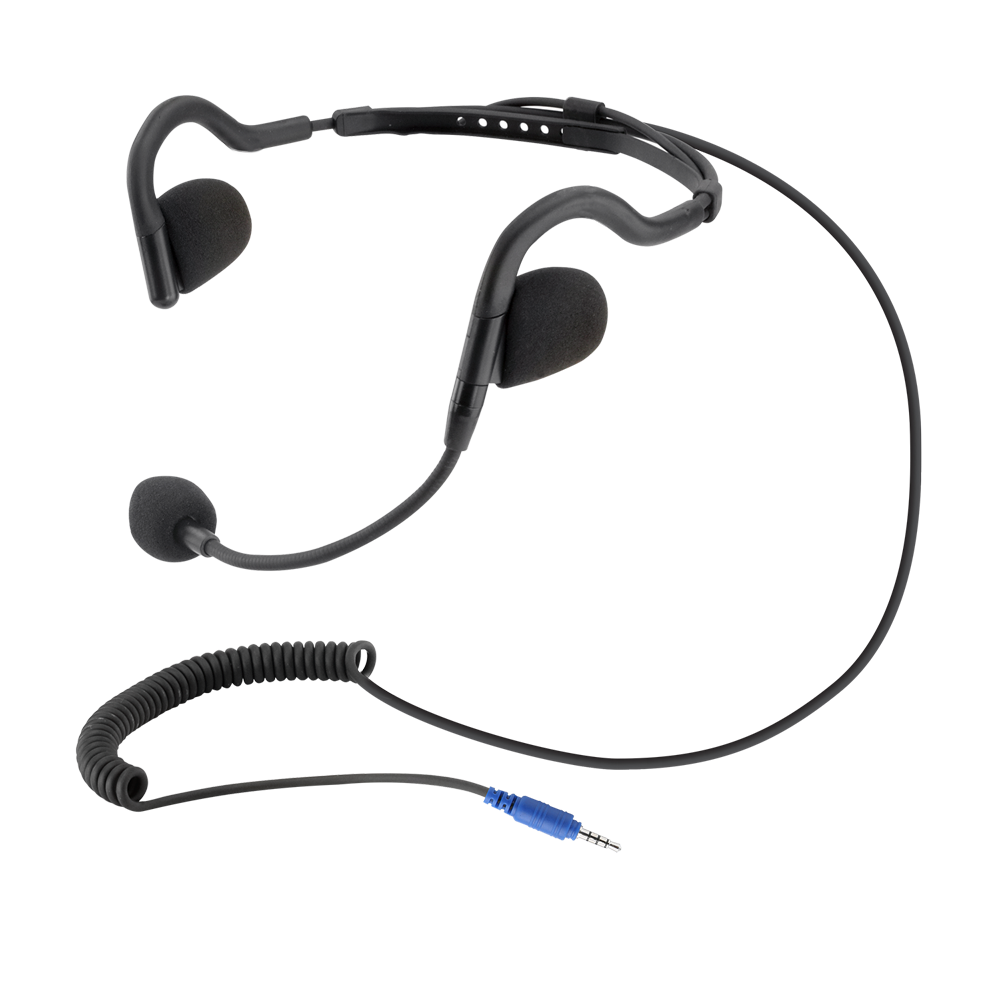 Lightweight behind-the-head design works great with half-helmets, baseball caps, and in situations where weight is an important factor.
The new Super Sport headset features a 3.5mm plug for compatibility with Super Sport cabling and intercom kits.

Dynamic noise cancelling mic ensures clear audio transmissions while a 34" cord expands to 6' to provide room for connectivity and mobility.

Features:
• Lightweight Design
• Dynamic Noise Cancelling Mic
• Adjustable Back Strap for Perfect Fit
• High Bend 6' ft Test Cabling
• Carrying Case with Handle