Offroad Racing Communications

all the communication essentials for your race car, prerunner, and chase truck

Race proven communications to get you to the finish line! Get your entire team on the same page with trusted, reliable communications equipment.
Performance tuned race comms for race car, chase truck, prerunner, base & pit support. For the race crew, shop SA rated helmets with head and neck restraints. And - don't forget the race catheters. Every second counts on the track!
We're here for the racers!
take the TRACK with confidence and expert race communications

We've selected the top equipment recommended for the racing applications below. It's the same equipment we put into all the vehicles for the top Rugged race teams. Shop long range radios, base camp communications, race intercoms, and race essentials here.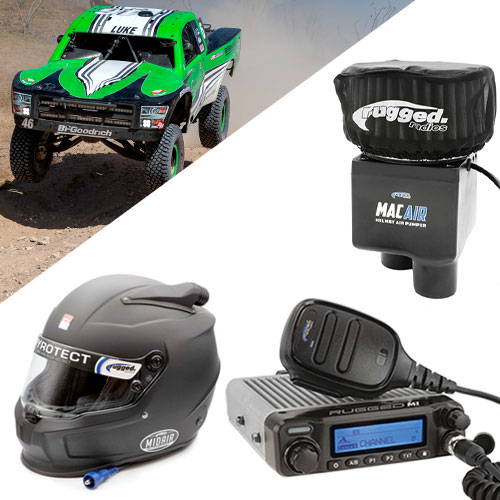 Mobile race radios
Race intercoms
Antennas and race cabling
Helmets, pumpers, restraints
Helmet kits and earbuds
First aid and trauma kits
GPS units
CHASE TRUCK COMMUNICATIONS
Mobile 2-way radios
Handheld 2-way radios

External speakers
Antenna and race cabling
GPS units


RACE CAR MOBILE RADIOS AND INTERCOM KITS

The waterproof M1 represents the best radio we've ever produced. Not afraid of water. Not afraid to race. Develeoped here at Rugged Radios, the M1 IP67 radio offers incredible performance with superior digital audio clarity. Race intercom kits deliver unique and specifically developed for race drivers and co-drivers.
RACE SERIES ANTENNAS AND COAX CABLE

Race Series antennas and coax cables are engineered to deliver the best radio performance for clear and reliable communications.
RACE SERIES INTERCOM, HANDHELD RADIO, AND GOPRO CABLES

Connect your helmet kit to your intercom with shielded high performance cables. With the record cable, capture the action on your GoPro or recording device for the clearest audio and cinematic experience.
RACE HELMETS WITH PUMPER INLETS

SA rated race helmets wired with Alpha Audio helmet provide intercom connectivity for the best in communcation. Featured with pumper inlets, these helmets are ready to connect to a MAC Air helmet pumper to stay cool and eliminate dust.
Take control of your air with a complete pumper package! The MAC Air Pumpers build pressure and forces a high volume of air into your helmet to keep you cool and keep the dust out.
Experience the best in communication and clear audio with Alpha Audio helmet kits.
Experience the best in communication and clear audio with Alpha Audio helmet kits.
NecksGen and Simpson neck restraints feature lightweight designs and easy installation and use. Add catheters to your race essentials to save that precious time on the track.